Lavender Graduation is an annual ceremony conducted on numerous campuses to honor lesbian, gay, bisexual, transgender, and queer students and to acknowledge their achievements and contributions to their universities.
Community Update (4/8/2021):
Greetings Bruins,
We write with deep admiration for how we continue to show up for each other both on and off the screen. Last year we were jolted into the remote environment and had to rethink in-person gatherings as a collective campus. We hope this year, one filled with lots of pain and grief, also brought you moments of grounding and restoration. In this nuanced reality, we will continue to highlight and honor the resilience and talent that exists within our Bruin LGBTQ+ community.
Given the current information at hand and with the safety of our communities as our ultimate priority, we will host a virtual Lavender Graduation ceremony again this year on Saturday, June 12th, 2021 from 1-3pm PT. Directly following, we invite graduates, speakers, and award recipients to connect in community in a virtual post-ceremony gathering from 3:10-3:40pm PT.
We know hosting a virtual ceremony may be received with many mixed emotions—potentially grief, sadness, and frustration—and WE want to honor those valid feelings. We know you and all those that support you have worked hard to see you on the commencement stage. However, with the current information available to us, we strongly believe the best way to achieve the goals of the ceremony and support one another is to do so safely. Although we are not able to come together in person, we will provide a robust virtual Lavender Graduation that will consist of recognition of our graduates through personalized slides, an award ceremony, remarks by senior administrators, graduating students, and alumni, a post-event virtual gathering, live social media features during the ceremony, and the option to mail graduation memorabilia to you afterwards.
We have also not forgotten about the Class of 2020, all of whom have received information regarding the shipment of their graduation memorabilia.
Lastly, Liz will host Lavender Graduation drop-in hours in the Spring Quarter 2021, Week 2–Week 10 on Fridays from 10–12pm PT, to answer any questions, receive concerns and feedback. To receive the zoom link for drop-in hours please Liz at elopez@lgbtq.ucla.edu or direct message us on Instagram @uclalgbtq.
Important Dates:
Lavender Graduation Ceremony – Saturday, June 12th 1-3pm PT via Zoom Webinar
Post Ceremony Virtual Gathering – Saturday, June 12th 3:10pm –3:40pm PT via Zoom Meeting
In community,
UCLA Lavender Graduation Committee
Drop-in Hours for Graduates
The LGBTQ CRC's Program Coordinator Liz Lopez will host Lavender Graduation drop-in hours via Zoom in the Spring Quarter 2021, Week 2–Week 10 on Fridays from 10–12pm PT. Drop in to discuss Lavender Graduation logistics, provide feedback, discuss concerns and ask general questions. To schedule please email Liz at elopez@lgbtq.ucla.edu or reach out via direct message on Instagram @uclalgbtq.
Registration​
Graduates may register via this registration form. When we are back on campus, we will mail (or hold in the Center for pickup) all materials we'd normally present in person to our graduating students (including tassels, stoles, certificate/s, printed programs). If you have any questions, please reach out to uclalavgrad@gmail.com.
Tentative Program
Date and Time: Saturday, June 12th from 1:00-3:00 PM PST
Sequence of Events:
Welcome and Land Acknowledgement
Opening Remarks
Keynote Address
Undergraduate and Graduate Student Highlights
Awards Ceremony
LGBTQ Studies Certificate Presentation of Minors
Graduating Student Speaker
Recognition of Graduates
Closing Remarks
Post-Ceremony Gathering
Tag the Center on Instagram!
Lavender Graduation will also offer graduates and award recipients the opportunity to be featured on our social media. We would love for our audience of students, alumni, and community members to celebrate along with you. If you tag the LGBTQ CRC at @UCLALGBTQ on an Instagram post featuring yourself, we will repost the image to our Instagram story. Please note that the tag to the Center's Instagram account will count as consent to repost on our story and may be reshared by the official UCLA Instagram account @UCLA. We will not share the images on any other platforms . In addition, your account setting needs to be made public, so we can see the post and have access to reshare. We look forward to seeing what highlights you share with us!
Keynote Speaker
Dr. Mimi Hoang, Psychologist, Educator, and Activist (she/her) (Class of 1999)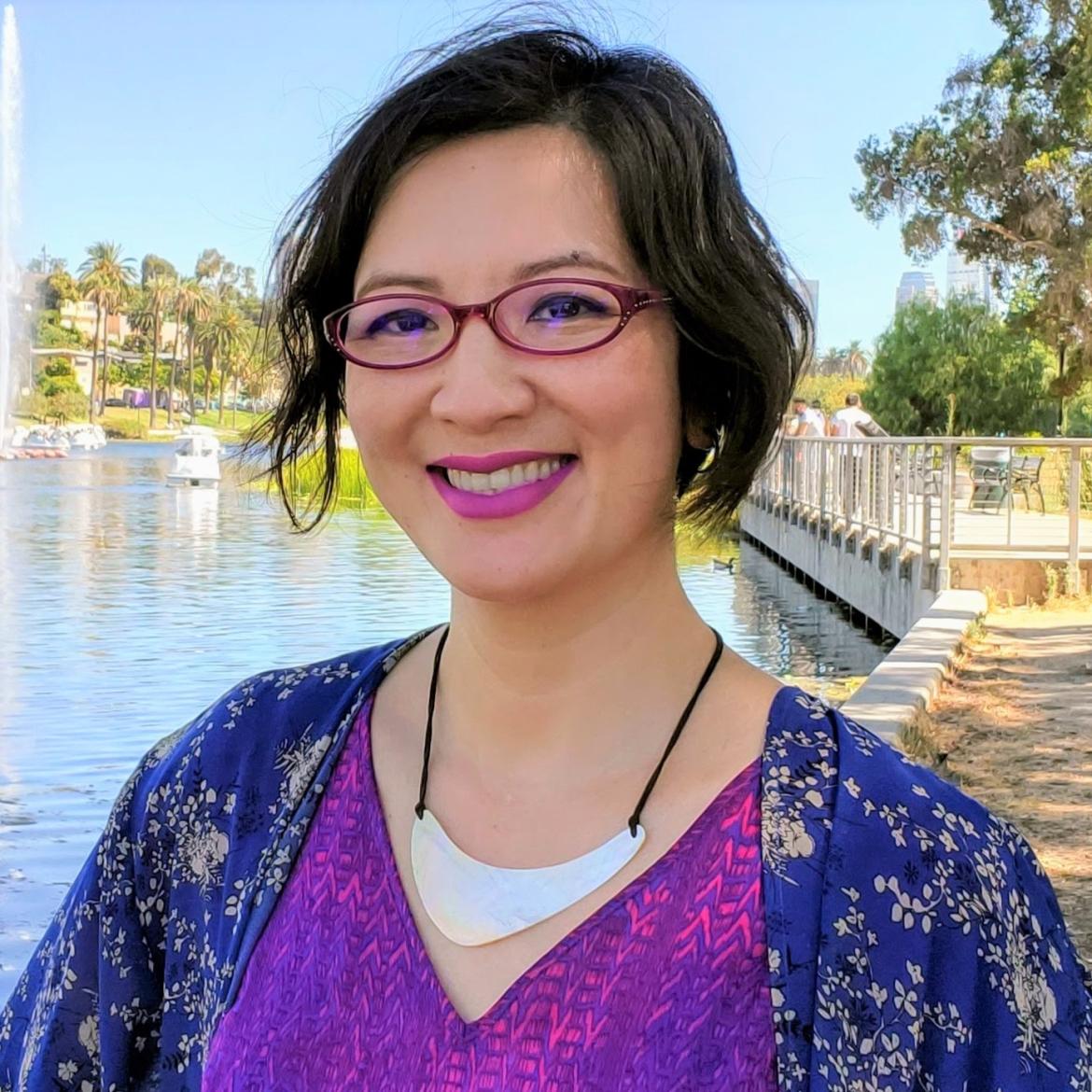 Biography
Dr. Mimi Hoang (she/her) is a nationally-recognized psychologist, educator, author, and grassroots activist specializing in the LGBTQ+ and Asian Pacific Islander communities. She works as a Staff Psychologist at Loyola Marymount University's Student Psychological Services, as the Clinical Supervisor of the LGBTQIA Affirmative Therapy Center at Airport Marina Counseling Service, as a consultant/trainer on issues of diversity, and is the creator of the "Bi on Life" self-empowerment series. Even more broadly, Dr. Mimi has co-founded three organizations for bisexual, pansexual, fluid, and other nonmonosexual (AKA "bi+") individuals - Fluid at UCLA, amBi (LA's Bisexual Social Community), and the Los Angeles Bi Task Force - and has served as a Board member of the South Bay LGBT Center in Torrance, has led or volunteered with multiple API and queer API organizations in Los Angeles, authored multiple publications on LGBTQ issues, and earned a seat at the landmark 2013 White House Bisexual Community Roundtable. Her steadfast leadership has earned her multiple awards, a feature in Jan Dee Gordon's LGBTQ of Steel photography book, and being named "One of the Most Significant Women in the Bisexual Movement." During her time as a Bruin, Dr. Mimi worked at the Neuropsychiatric Institute, the Biochemistry Department, and the Norman Cousins Center for Psychoneuroimmunology, and volunteered for the Bruincorps Americorps Teach for America Program. She also kept her extra-curricular plate full by serving as Publicity Co-Chair of the Vietnamese Student Union, member of Mahu (Asian Pacific LGBT Support/Social Group), and the Student Alumni Association. and in 2000 she won the LGBT Campus Resource Center's "Volunteer of the Year" award.
Awards
Nominate yourself or a friend for an award! See the Student Awards page below to read about each award. To submit an award for a student, please visit: https://sa.ucla.edu/Forms/p/StudentAwards
The UCLA LGBTQ CRC also offers two awards for an outstanding faculty member and one award for an outstanding student organization.
Has a faculty member made a large impact in your life and/or the UCLA LGBTQ community? Nominate them for the Outstanding Faculty Award at: https://sa.ucla.edu/Forms/p/OutstandingFaculty.
The Bridge Builder Award recognizes staff and/or faculty who work tirelessly to enhance visibility and support through their professional roles and their personal commitment to the LGBTQ Community. As the name suggests, these individuals break barriers and bridge relationships to create change and awareness, making the campus an inclusive place for all of us. Nominate a staff/faculty member at https://sa.ucla.edu/Forms/p/BridgeBuilderStaffAward.
Has your organization fostered community and furthered the inclusion of LGBTQ people on campus? Nominate them for the LGBTQ Student Organization of the Year award at: https://sa.ucla.edu/Forms/p/StudentOrgAward
In addition to the awards above, the LGBTQ CRC would like to highlight the Matthew B. Palazzolo Memorial Award for Excellence in Leadership and Public Service. Established in 2021 to honor the life and legacy of LGBTQ activist, actor, and Bruin Matthew B. Palazzolo '05, this award is open to any full time UCLA undergraduate or graduate student (not necessarily graduating) who has provided leadership and service to the UCLA LGBTQ+ community during the years of their current degree and who meets the following criteria:
has demonstrated excellence in leadership abilities
has worked to address LGBTQ issues through community and public service
Information on the Zoom Webinar Platform
A Zoom webinar is a view-only platform where the attendees cannot see each other, and the Host cannot see the attendees. Only panelists/presenters will appear on the screen. Access the virtual ceremony by clicking the guest link we will provide prior to the ceremony. The chat feature will remain open during the ceremony to engage with the speakers and to cheer on your fellow peers and graduates. The ceremony will be closed captioned. Please find helpful Zoom webinar resources below:
Joining and participating in a webinar (Website)
Como Usar Zoom (Youtube video in Spanish)
Como Usar El Programa Zoom (Youtube video in Spanish)
Sponsor Today
Would you like to congratulate UCLA LGBTQ graduates through advertising in our program booklet?
You can fill out an order form at: https://sa.ucla.edu/Forms/p/Akgv3