The UCLA LGBTQ Campus Resource Center hosts a variety of programs that center our core values of wellness, community, equity, and advocacy.
Upcoming Events
Find out about upcoming events hosted or co-hosted by the LGBTQ Campus Resource Center, as well as our annual events like Cookies and Queers and Take a Drag. As of April 2020, we will be adapting our programs and services to meet the needs of our communities virtually and will provide updates as we have them.

We strive to provide affirming accessible events and opportunities for all community members. If you anticipate needing accommodations for an event, please contact our Program Coordinator Liz Lopez at elopez@lgbt.ucla.edu.
Weekly Programs
Looking to get involved? Attend one of our weekly LGBTQ programs hosted at the LGBT Center. Our weekly social programs are open to the entire UCLA community while our new Affinity Spaces are closed spaces for students who hold those specific identities.

The LGBTQ Campus Resource Center will be continuing its weekly spaces during spring quarter 2020 via Zoom for Spring Quarter 2020!

Given the shift to virtual/remote programming and in order to keep our programs for UCLA community members, the LGBTQ Campus Resource Center is asking that all UCLA community members interested in participating in one (or multiple) of our weekly spaces indicate their interest on this form. Zoom links for the weekly spaces will be sent only to those who complete the form in order to try and maintain student privacy and confidentiality.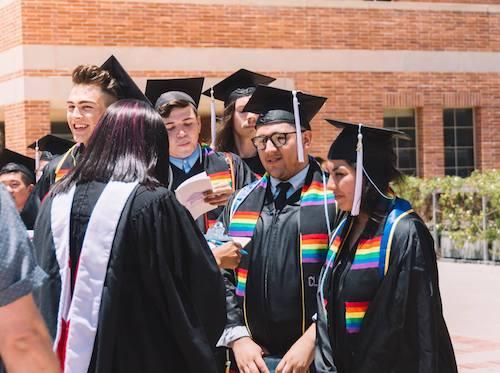 Lavender Graduation
Lavender Graduation is an annual ceremony conducted on numerous campuses to honor lesbian, gay, bisexual, transgender, and queer students and to acknowledge their achievements and contributions to their universities. Lavender Graduation allows the UCLA institution to officially recognize LGBTQ students for their leadership, successes, and achievements.

Given the current information at hand and with the safety of our communities as our ultimate priority, we will host a virtual Lavender Graduation ceremony again this year on Saturday, June 12th, 2021 from 1-3pm PT. Directly following, we invite graduates, speakers, and award recipients to connect in community in a virtual post-ceremony gathering from 3:10-3:40pm PT.
Our programming coordinator Liz Lopez (she/ella) will host Lavender Graduation drop-in hours in the Spring Quarter 2021, Week 2–Week 10 on Fridays from 10–12pm PT, to answer any questions, receive concerns and feedback. To receive the zoom link for drop-in hours please Liz at elopez@lgbtq.ucla.edu or direct message us on Instagram @uclalgbtq.
Celebrating Our Twenty-Fifth Anniversary
2020 marks twenty-five years with the LGBTQ Campus Resource Center. To celebrate, the CRC will be hosting a variety of special programs to celebrate the CRC's past, present, and future.