The UCLA LGBTQ CRC is open during the summer during select hours. Please visit our Contact Us page to learn more.
The UCLA LGBTQ Campus Resource Center has proudly been serving the UCLA community for over 25 years. We provide a comprehensive range of education and advocacy services supporting intersectional identity development as well as fostering unity, wellness, and an open, safe, and inclusive environment for UCLA's LGBTQ community. The LGBTQ CRC supports community members of all sexual and gender identities and serves the entire UCLA community – undergraduate students, graduate and professional students, faculty, staff, and alumni. We welcome you to engage with us by stopping by the Center, attending our programming, utilizing our services, or participating in an allyship training.
In Response to the Tragedy in Colorado Springs on TDOR (11/22/22)
Dear Community Members,

This past Sunday, November 20th, as we collectively recognized International Transgender Day of Remembrance (TDOR) with grief and solemnity, we were then shocked in horror by the shooting that took place at Club Q nightclub in Colorado Springs. With TDOR in our hearts and minds, and only six years removed from the atrocious shooting at Pulse Nightclub in Orlando, we recognize that this type of targeted violence is nothing new to the LGBTQ+ community.

Today, we express our deepest sorrow and concernment over another mass murder targeting our communities. We send our condolences to the families, friends, and loved ones of:
Raymond Green Vance, 22 (he/him)
Kelly Loving, 40 (she/her)
Daniel Davis Aston, 28 (he/him)
Derrick Rump, 38 (he/him)
Ashley Paugh, 35 (she/her)
Even amidst these most difficult times, we must remain steadfast in our love and community for one another. Our Center will be open during our regular business hours (9am-6pm) today and Wednesday with professional staff available and our space for us to be in community and decompress. We will be closed on Thursday and Friday for the Thanksgiving break. 
We strongly encourage students and employees to take advantage of the available mental health and wellbeing resources listed below. We also encourage our faculty and staff colleagues to prioritize the well-being of undergraduate and graduate students in consideration of the end of quarter and finals week during this challenging time.

Sincerely,
Andy Cofino (he/him/his), Director
Minerva ("Minnie") Esquivel Gopar (they/she/elle/ella), Administrative
Coordinator
Jaime Estepa (he/they/siya), Program Coordinator
Dr. Sonita Moss (she/she/hers), Assistant Director
UCLA LGBTQ Campus Resource Center
Additional UCLA Resources include UCLA Counseling and Psychological Services, the UCLA RISE Center, and UCLA Case Management Services.
Upcoming Events
Stay up-to-date with the LGBTQ CRC's events through our Community Calendar!
Additional UC & UCLA Resources
UCLA Counseling and Psychological Services
UCLA Rise Center
UCLA Case Management Services
UCLA Staff and Faculty Counseling Center
Dashew Center for International Students & Scholars
Undocumented Student Programs
UCLA Bruin Resource Center (BRC)
UCLA Community Programs Office 
Graduate Student Resource Center
Office of Equity, Diversity and Inclusion
Resources on Anti-Asian Discrimination
Office of the Dean of Students 
https://studentincrisis.ucla.edu/resources  
Updated Gender-Inclusive Restroom Map (January 2022)
We are proud to announce the completion of an updated Gender-Inclusive Restroom Map! Our greatest thanks to those who worked tirelessly on this vital project.
Downloadable Gender-inclusive Restroom Map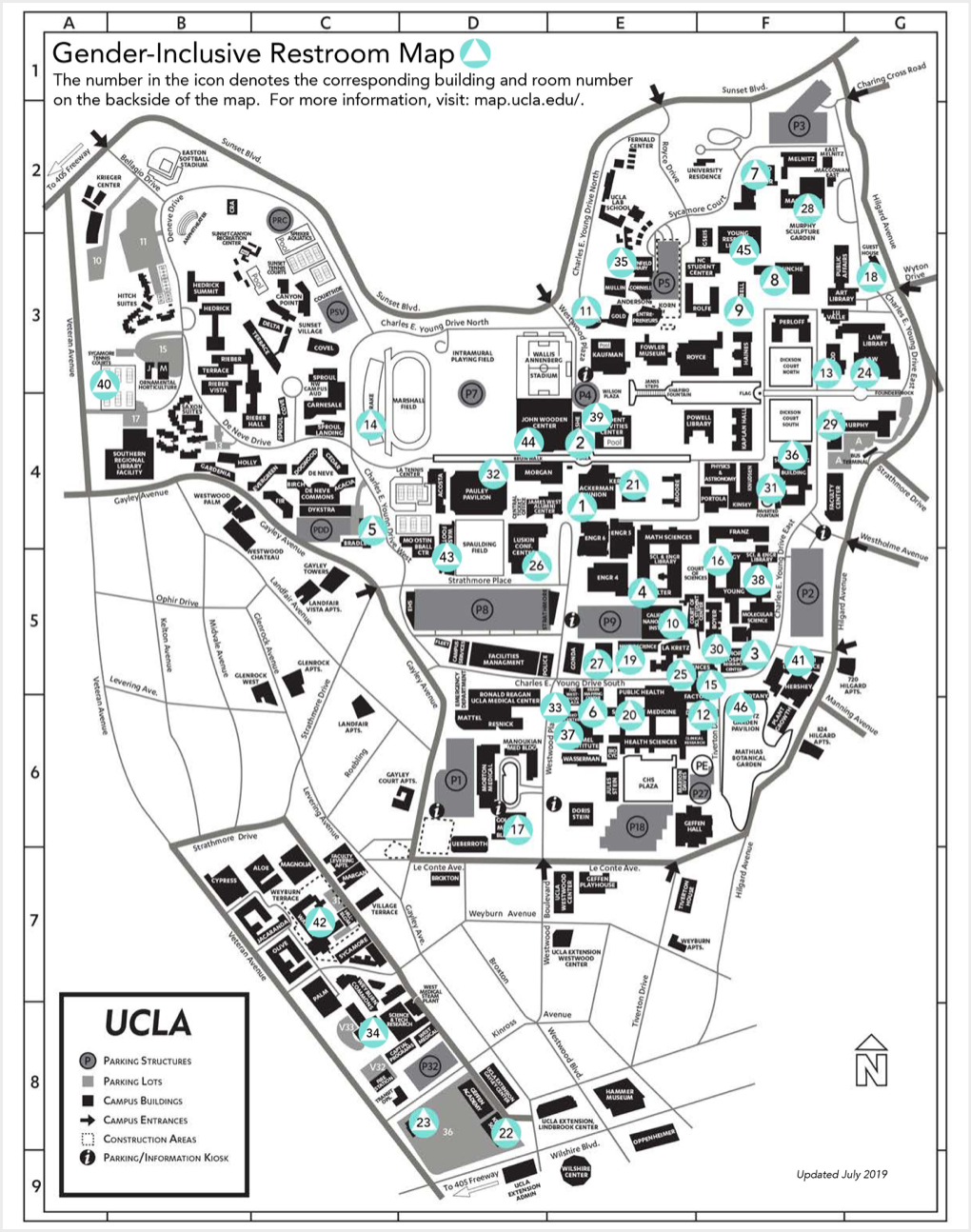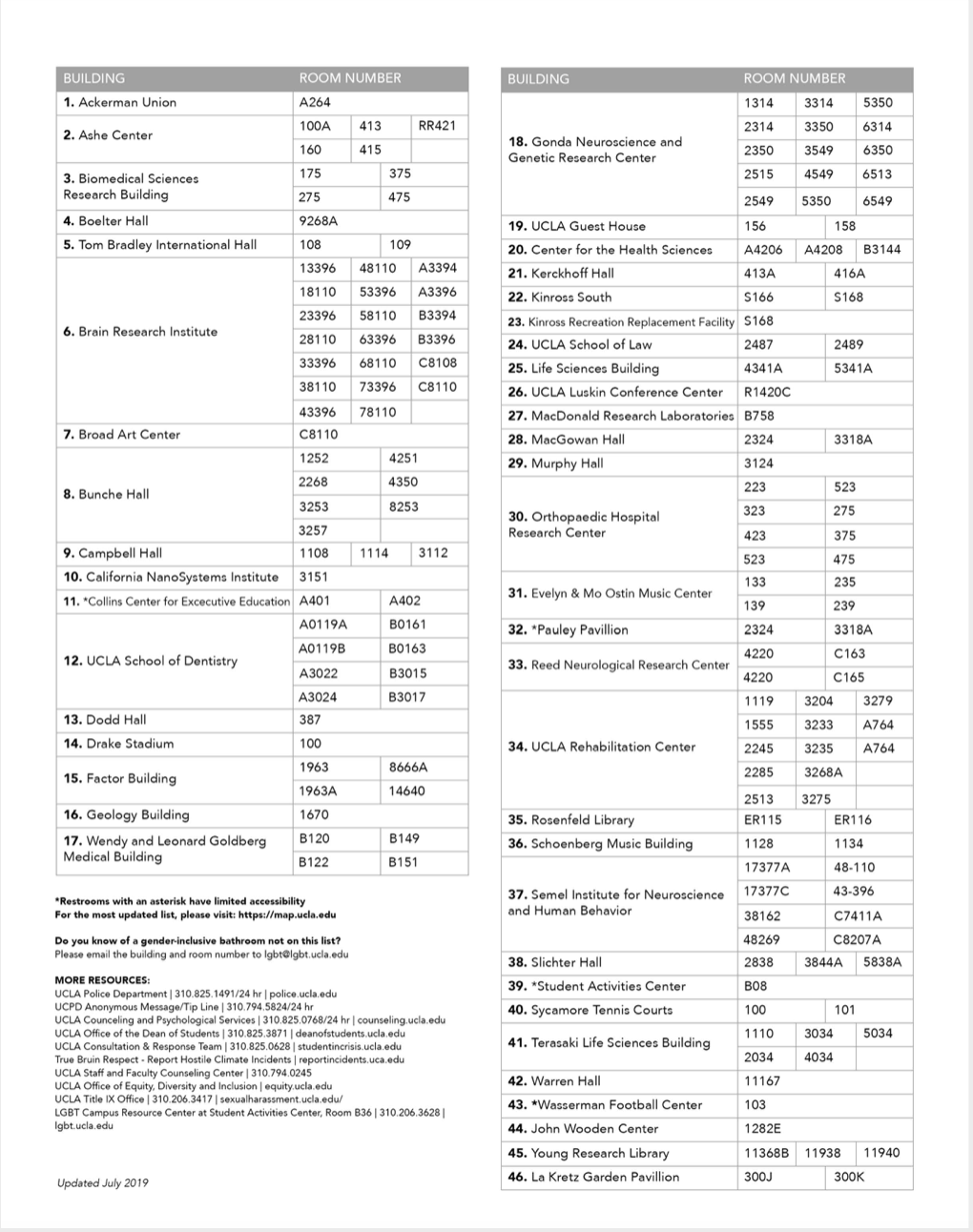 At the CRC

Trans @ UCLA

External Resources

LGBTQ Student Organizations
Social Media
The UCLA LGBTQ Campus Resource Center acknowledges our presence on the traditional, ancestral and unceded territory of the Gabrielino/Tongva peoples.