The UCLA LGBTQ CRC will reopen for in-person meetings to students, staff, and campus visitors starting January 28th, as per UCLA guidelines. For more information, please visit our Contact Us page.
The UCLA LGBTQ Campus Resource Center has proudly been serving the UCLA community for 25 years. We provide a comprehensive range of education and advocacy services supporting intersectional identity development as well as fostering unity, wellness, and an open, safe, and inclusive environment for UCLA's LGBTQ community. The LGBTQ CRC affirms folks of all sexual and gender identities and serves the entire UCLA community – undergraduate students, graduate students, faculty, staff, and alumni. We welcome you to engage with us by stopping by the Center, attending our programming, utilizing our services, or participating in an allyship training.
Upcoming Events
Stay up-to-date with the LGBTQ CRC's events through our Community Calendar!
Response to the Letter Received by the UCLA Asian American Studies Center
February 11, 2022
Find past statements released by the LGBTQ CRC here.
Dear Community Members,
It has come to the Center staff's attention that a letter was received by the UCLA Asian American Studies Center this week espousing anti-Asian, anti-Black, and homophobic language. The letter included not only hateful language, but referred to a potential protest on Monday, February 14, 2022. Except for the single letter mailed to the Center, there is no additional evidence indicating there will be a protest or other related activity on campus. With that said, it is possible there will be UCPD presence on campus near and around Bruin Plaza and Campbell Hall on Monday, which we acknowledge may be triggering for system-impacted community members.
This letter was a disgusting, intolerable, and targeted message, directed towards our Asian and Asian American community members, and the larger BIPOC (Black, Indigenous, Person of Color) community. It is despicable and only intends to do harm and instill fear.
We want you to know that we care for each one of you and we are here to support you. The Center remains committed to our core values of social and racial justice. We unyieldingly condemn white supremacy at its core and recognize we cannot effectively serve our community nor do our work in the fight for social justice unless we are committed to dismantling the cultures of xenophobia, anti-AAPI racism, anti-Blackness, and all systems of oppression.
Our Center will be open on Monday, February 14, 2022, and staffed with our professional team during our regular business hours, 9:00 AM-6:00 PM PT. Our physical space will be available for students, staff, and faculty to be in community and decompress.
Please take good care of yourselves and each other during these uncertain times and know we are here for you in solidarity and community.
Sincerely,
Andy Cofino (he/him), Director
Jaime Estepa (he/him), Program Coordinator
Minerva ("Minnie") Esquivel Gopar (she/they/ella/elle), Administrative Coordinator
Liz Lopez (she/ella/they/elle), Assistant Director
UCLA LGBTQ Campus Resource Center 

---
Additional UC & UCLA Resources: 
 
UCLA Counseling and Psychological Services
UCLA Rise Center
UCLA Case Management Services
UCLA Staff and Faculty Counseling Center
Dashew Center for International Students & Scholars
Undocumented Student Programs
UCLA Bruin Resource Center (BRC)
UCLA Community Programs Office 
Graduate Student Resource Center
Office of Equity, Diversity and Inclusion
Resources on Anti-Asian Discrimination
Office of the Dean of Students 

Additional resources: https://studentincrisis.ucla.edu/resources  
Updated Gender-Inclusive Restroom Map (January 2022)
We are proud to announce the completion of an updated Gender-Inclusive Restroom Map! Our greatest thanks to those who worked tirelessly on this vital project.
Downloadable Gender-inclusive Restroom Map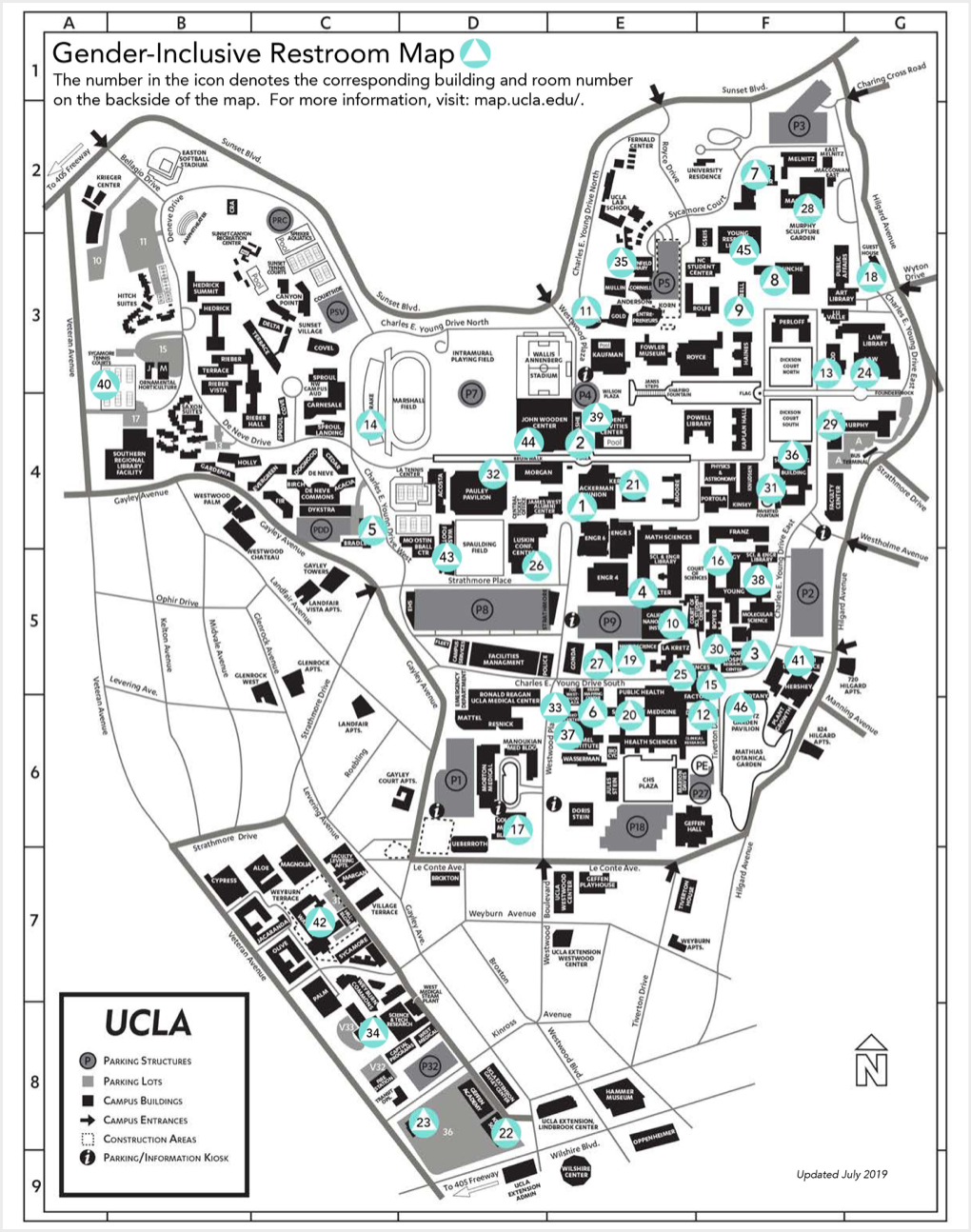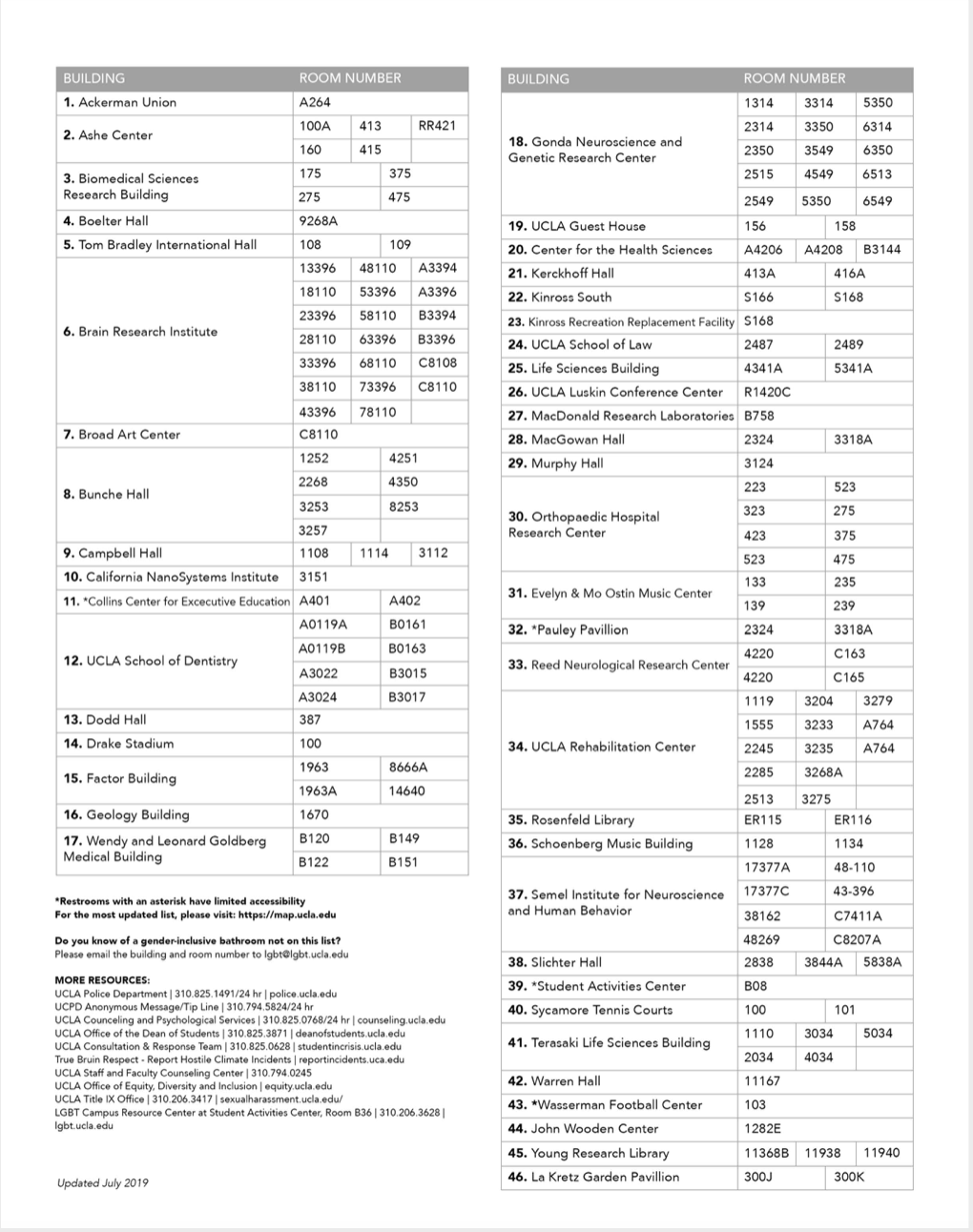 At the CRC

Trans @ UCLA

External Resources

LGBTQ Student Organizations
Social Media
The UCLA LGBTQ Campus Resource Center acknowledges our presence on the traditional, ancestral and unceded territory of the Gabrielino/Tongva peoples.