Counseling and Psychological Services
For a full listing of CAPS (Counseling and Psychological Services) offerings, please refer to the CAPS Services Page. CAPS is committed to promoting inclusion and the affirmation of individual and cultural diversity. Like the UCLA student body, CAPS staff members strive to be highly diverse and open-minded, and include several LGBTQ-identified therapists. All licensed therapists have completed specialized training in sexual orientation, gender identity, and support for students of color. CAPS is committed to providing compassionate and high-quality LGBTQ-affirmative services. For a list of specialized services (including LGBQ services and transgender care), please visit CAPS Specialty Services.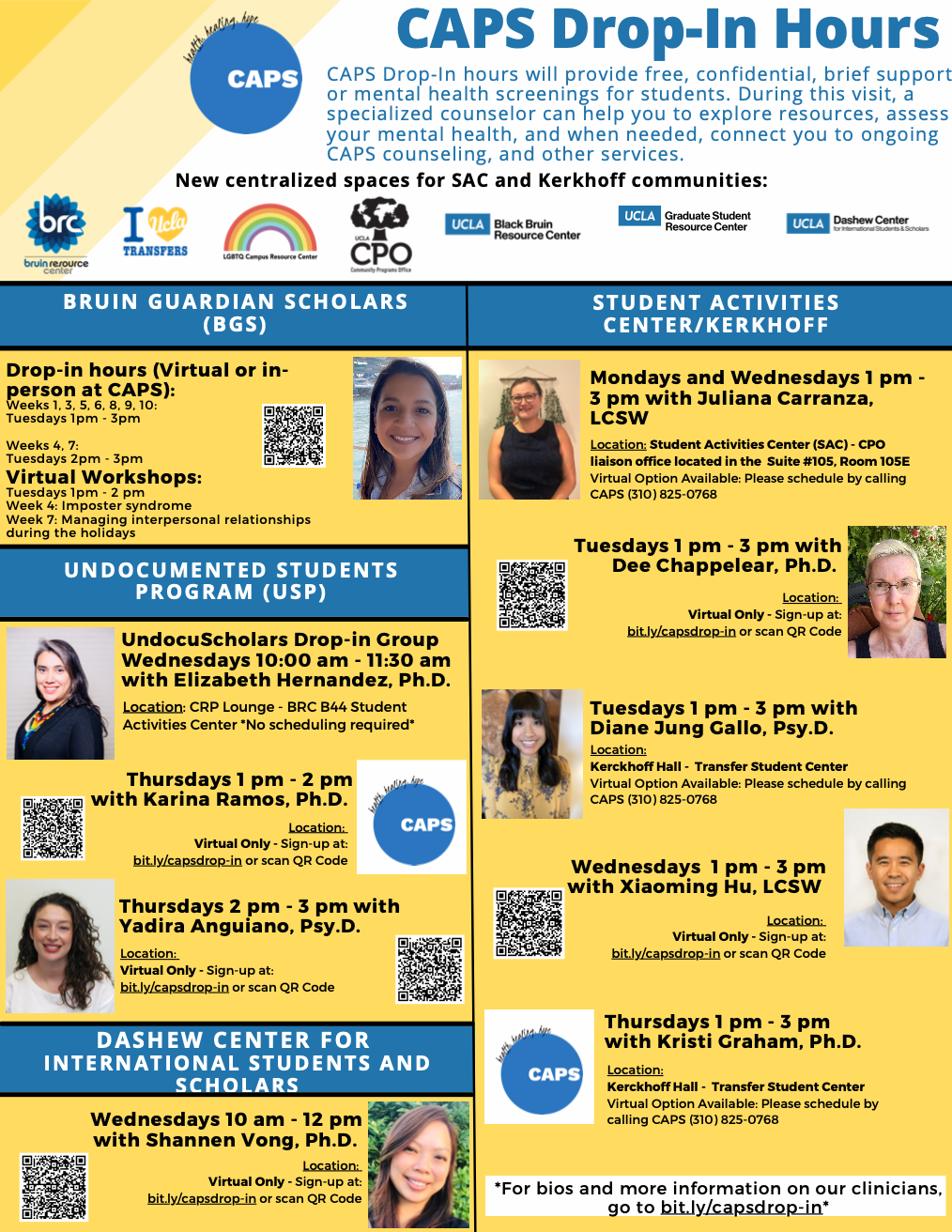 CAPS Direct Support Services
The UCLA LGBTQ CRC no longer has drop-in hours with counselors from Counseling and Psychological Services (CAPS). Drop-in hours are now centralized to communities housed in SAC and Kerckhoff, with counselors of varying identities and specialties. See the CAPS drop-in portal for more info!
CAPS Sexual Orientation and Gender Groups
CAPS offers therapy group via Zoom for students exploring their gender identity at two different times:
Gender Identity Spectrum Group: 2 sections over ZOOM, Weeks 3-10 
Mondays at 3-4:30 PM, Tuesdays at 1-2:30 PM 
This confidential therapy group is for students who are seeking a safe space to receive support, foster community, and explore their gender identity. Students who identify as transgender, nonbinary, gender fluid, genderqueer and gender-nonconforming are all welcome! 
If you have a therapist at CAPS, let your therapist know you are interested so they can refer you for a group evaluation.
If you have a therapist off campus or have not been to CAPS before, please call 310-825-0768 for a same day telehealth triage appointment. At this 15-20 min meeting with a triage counselor, you can specify that you are interested in the Gender group. They will provide a brief mental health assessment and then direct you to next steps (usually a group evaluation).
These groups are open to students with or without UC SHIP insurance, although those without UC-SHIP pay a $15 session fee. For those who are interested, please refer to the CAPS mainline: (310) 825-0768.
Case Management
Students' personal situations may negatively impact their well-being or academic life. In other instances, students' actions may disturb campus community members. In these situations, Case Managers are available to receive reports of concern and determine an appropriate response to assist the student and those who may also be impacted by the situation. Case Managers are available to consult with or provide training for campus community members who would like to better support students of concern. Case Managers must abide by FERPA laws, which means they are a private, not confidential resource.
All Case Managers can be reached by calling (310) 825-7291 or by emailing CRTeam@ucla.edu. 
If you would prefer to schedule an appointment, please go to the following link:https://ucla-advocate.symplicity.com/care_report/index.php/pid852250?
Please keep in mind that the Case Managers do not maintain 24 hour access to email or phone. For more information about Case Managers, please visit UCLA Consultation and Response.