UCLA LGBTQ Campus Resource Center
Introduction
In the winter of 2018, the LGBTQ Campus Resource Center began work on a qualitative needs assessment of the experiences of UCLA's lesbian, gay, bisexual, transgender, queer, asexual, aromantic, and intersex (LGBTQIA+) graduate and undergraduate Black, Indigenous, Students of Color (BIPOC). LGBTQ CRC Intern (and now undergraduate alumna and UCLA graduate student) Vanessa Warri launched and led this project, and in the 2019-20 academic year, Smriti Nagarajan joined the research team. With the overall aim of enhancing policies and the current provision of services available to LGBTQIA+ students of color on campus, the questions we are aimed to ask are:
How satisfied are LGBTQ students of color overall regarding feelings of belonging, wellness, and support from student organizations, staff, faculty, and peers?
What are the unique needs of LGBTQ students of color at UCLA?
What needs are and are not being met regarding social and academic engagement?
How do the many intersecting identities of LGBTQ students at UCLA impact the unique needs of the population?
What are some recommendations for student leaders, staff, and faculty that might better enable them to improve the overall quality of experience for LGBTQ students of color at UCLA?
The results of this assessment project will guide the work of the UCLA LGBTQ Campus Resource Center as we enter our 25th year. Furthermore, the results will be presented to Student Affairs units and student leaders to share out learnings in order to support UCLA's mission to provide an affirming and inclusive learning environment for all students moving into it's next one hundred years. Questions about this project can be directed to UCLA LGBTQ CRC Director Andy Cofino at acofino@lgbt.ucla.edu.
This assessment project is sponsored by the UCLA LGBTQ Campus Resource Center with support from the Community Programs Office, Bruin Resource Center, and the Graduate Student Resource Center.
Findings & Recommendations
Below is an infographic summarizing the Year 2 findings of the QTBIPOC Student Experiences Project. Findings from the QTBIPOC Student Experiences Project were presented to large groups of student leaders and campus partners. Below, there are also two recordings for both Year 1 and Year 2—one from the student leader session, and another from the campus partner session—that can be explored. In addition, the Year 1 findings infographic and the presentation from Years 1 and 2 are available to browse separately.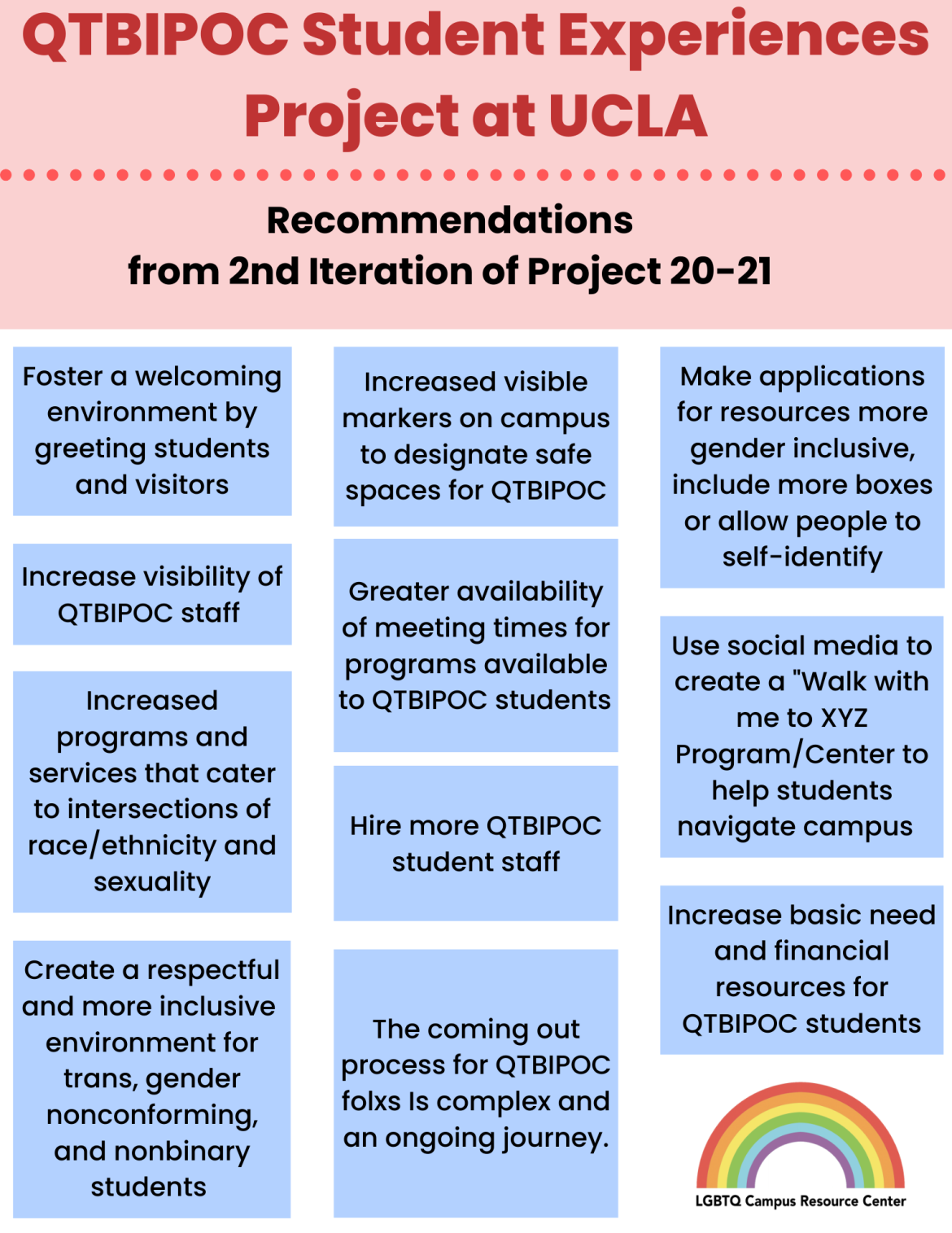 QTBIPOC Year 2 Findings — Spring 2022
Student Session Video Recording
Campus Partner Session Video Recording
QTBIPOC Year 1 Findings — Fall 2019
Student Session Video Recording
Campus Partner Session Video Recording
Report
Findings from the QTBIPOC Student Experiences Project were compiled into a single report for publication. This report contains a literature review of existing research surrounding QTBIPOC student experiences, the aims of the study, the study timeline, demographics, common themes from the conducted interviews, and feedback and recommendations based on the findings.
You can download and view the Year 1 report, and the full Year 2 report is forthcoming.
Presentation Slides
Please find and download the presentation slides for both Years 1 and 2 here: